Hong Kong Walking Holidays: Around The Harbour And Beyond
If you're looking for walking holidays in a place that's distinctively Asian yet extremely cosmopolitan, Hong Kong might be the place for you!
Hong Kong - Around The Harbour And Beyond
If ever there was a city made for walking holidays, Hong Kong is it! An intriguing mix of the East and West, old and new, noisy street markets and quiet temples, crowded metropolis and remote islands - it's a place that promises hours of interesting hikes with never a dull moment. From easy strolls through the city streets (with some shopping along the way) to hikes along longer trails, there's bound to be something you'll love about walking holidays in Hong Kong.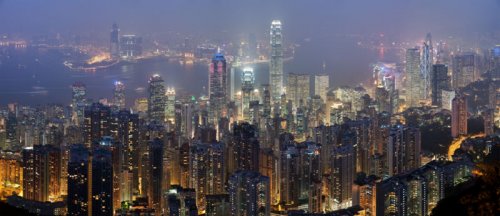 Fragrant Harbour
While "fragrant" may be somewhat pushing it, the fact remains that the entrance to Hong Kong is definitely a great place to start your exploration - with the Star Ferry, sampans, old junks, floating markets, restaurants and more. Behind it lies a colourful city of new glass and chrome skyscrapers nestled next to older buildings. Neon lit winding streets are filled with shops and markets to discover on a leisurely stroll.
Victoria Peak
A visit to Hong Kong wouldn't be complete without a visit to Victoria Peak - also known as Tai Ping Shan, or the Mountain of Great Peace. It is often the setting off point of a 50 kilometre hike and walkers can enjoy views of both the bustling city and Victoria Harbour, as well as the peaceful vistas of Kowloon Peninsula and The New Territories in the distance. There are several trails available, as well as tour by tram, for the easily tired.
Lamma Island
A far cry from the bustling metropolis, this island with a 6,000-year history of fishing is a great spot for walking holidays- in fact, with no roads, it is the only way to get anywhere! Paved coastal paths often frequented by beautiful butterflies take visitors to near-abandoned villages through ancestral graves, then to seaside restaurants for hearty seafood meals. Don't forget to stop by the temple of Tin Hau to pay your respects to the local sea goddess.
Lantau Island
The largest outlying island in Hong Kong, with almost half of the area designated as a country park, is another wonderful place to include in Hong Kong walking holidays. A popular spot for nature lovers, the green lushness of the island melds wonderfully with the serenity brought about by its other attractions- the Giant Buddha gazing lovingly at the Po Lin Monastery, Tai O village, Shek Pik reservoir and Cheung Sha beach. Don't miss the Wisdom Path, an outdoor replica of the centuries-old Heart Sutra, one of the world's best-known prayers for Confucians, Buddhists and Taoists alike.
The New Territories
Ma On Shan mountain, part of the 100 kilometre Maclehose hiking trail is perhaps one of the more challenging legs of many Hong Kong walking holidays. Guided tours take visitors towards the border of mainland China though the New Territories, where visitors can opt to continue to the mainland. (A visa is required.)
Tony Maniscalco is the Sales and Marketing Manager for Ramblers Worldwide Holidays. Join us on walking holidays to see scenic locations & landscapes at the best value prices. We offer over 250 guided group walking holidays in over 65 different countries.
comments powered by

Disqus